Home • About • Hillary Allgood, DVM
Meet Hillary Allgood, DVM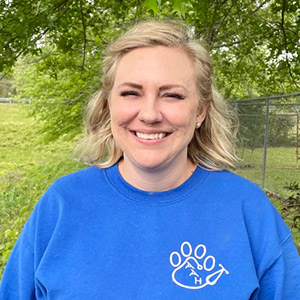 Dr. Allgood, originally from Georgia, graduated from the University of Florida College of Veterinary Medicine with her doctorate of Veterinary medicine and a certificate in aquatic animal health. Dr. Allgood took the first two years out of veterinary school to expand and solidify her knowledge by participating in an academic and private practice small animal, emergency and critical care, surgery, internal medicine, and exotic medicine internships. Prior to her veterinary training, Dr. Allgood received a Bachelor's in Fisheries, Wildlife, and Conservation Biology at Colorado State University in 2010.
Dr. Allgood wanted to also pursue her passion in teaching and practicing veterinary medicine to those that are underprivileged and underserved in her area. While working with the Palm Beach Zoo, her love of teaching and mentoring led her to get a Master's of Science in Environmental Education. She has taught a 1 month old baby to a group of senior citizens over 100 years old.
Combining her passions has been a goal for Dr. Allgood and after researching and working with mentors, it was clear that veterinary medicine would be the perfect fit. Evidence-based medicine, her leadership and communication training, as well as her love for teaching are alway present. Dr. Allgood practices high-quality medicine while tailoring the treatment plan and course of action assuring everyone is part of the team! Dr. Allgood is excited to meet you and your loved one(s).
In her spare time, she is an amateur artist (painting, ceramics, redoing old furniture), a collector and propagator of rare succulents and cacti, traveling (she's been to all continents except for Antartica), live music, standup comedy, and she invests a lot of her time learning as much as she can about all aspects of veterinary medicine. Some of her favorite topics include internal medicine, surgery, cardiology, neurology, and clinical pathology.
Dr. Allgood recently moved to the Montgomery area and she absolutely loves it. She also spends a lot of time with her three cats (Harriet, Grover, and Leia), and the biggest lovebug, Otis the Basset Hound.